About YAA Coaching
The purpose of YAA Coaching is to provide the right level of coaching to Yorkshire's archers, from grass roots to world class.
YAA Coaching is part of the Yorkshire Archery Association.
Welcome!
Welcome to the website of YAA Coaching, the organisation for archery coaching in Yorkshire.
Arrowhawks
Please note: all Arrowhawks activities are suspended until further notice.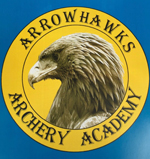 Arrowhawks Archery Academy has been launched to provide national talent development and academy programmes to Yorkshire
Notifications of updates
Want to be alerted when a news item appears on this site or a significant change is made? Send an email to

yaa@phoenixbowmen.co.uk with the subject line "Subscribe YAA Coaching". Once we've confirmed that you want to receive emails from us, we'll add you to the mailing list of people to notify. Your email address will ONLY be used for this purpose and no other.
This site
If you have any suggestions for the site or coaching-related news you'd like us to report, please contact the

webmaster.